Modern guitar virtuosos, Fareed Haque & Goran Ivanovic bring their fusion blends of classical jazz & world music to Davenport, IA.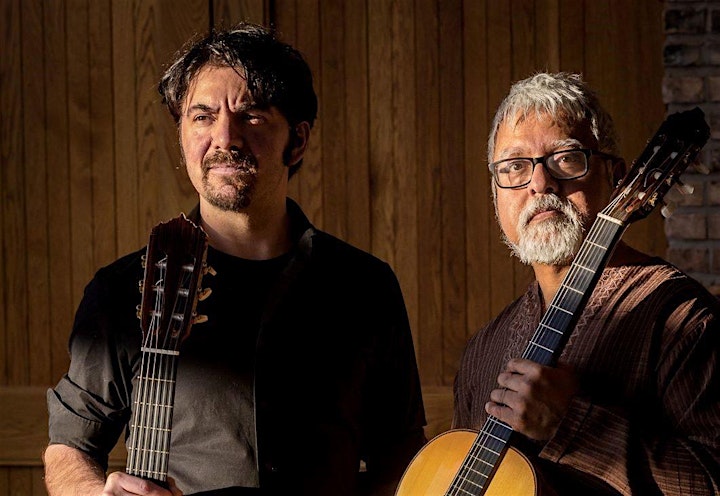 Inspired by the rhythms and melodies of flamenco, jazz, classical, rock and the Balkan region, this performance features the unrivaled guitar artistry of two of the finest players of their respective generations. Their music is carefully balanced between blazing virtuosity and sheer beauty.
Goran Ivanovic and Fareed Haque recorded two CDs together, Macedonian Blues and 7 Boats, to great critical acclaim, even getting the nod as top best acoustic guitar albums 2004 from acoustic guitar magazine. Both have both been so busy that they have not been able to play again together for years.
Doors: 7pm / Show: 8pm
Tickets: $15 in advance / $18 day of show
Headliner: Goran Ivanovic / Fareed Haque Duo
Age Restriction: All ages, (Under 19 must be accompanied by an adult)
Web: https://fareed.com/goran-ivanovic-fareed-haque-duo/?fbclid=IwAR2GlPQtjzl9RAZ0SFrgwz7jIxo2cVZhoK4N-qs5gRISNT97gszMDkbMedA
Social:
https://www.facebook.com/goranguitar
https://www.facebook.com/FareedHaqueJazz/
Genre: Classical Jazz, World Fusion
*** All tickets are general admission, for standing room only. Purchasing a ticket does not guarantee a seat. ***
COMMON CHORD POLICIES:
*Ticket Disclaimer*
All tickets for Common Chord events are sold via Eventbrite and carry applicable transaction fees. Tickets can be purchased the day of the event, online, and at the door (subject to availability). Ticket fees also still apply for admission at the door.
*Reserved Seating*
All tickets are General Admission unless otherwise stated. For the comfort of our guests, a limited amount of seating is available on a first-come, first-serve basis.
Reserved Tables: a limited number of tables are for sale in advance, sold through our ticketing service. You will need to add your General Admission tickets AND your Reserved Tables to the cart for purchase. There are four seats at a table.
Physical Accommodations: If you require seating or a reserved space due to health or physical needs, you will need to purchase your General Admission ticket first and then email feedback@commonchordqc.org to reserve up to 2 seats. Tables must be purchased separately.
*Age Restrictions*
Most shows in the Redstone Room are All Ages unless otherwise noted, but minors may attend if accompanied by a parent or guardian.
*Refund Policy*
Purchased tickets are nonrefundable, except in cases of rescheduled or canceled shows.
*Further Questions?*
Please email feedback@commonchordqc.org