Join us for a candlelight evening of Songs & Stories, & experience the magic of a listening room event unlike any other in the Redstone Room
Songs & Stories – is a respectful listening event inspired by the likes of The Bluebird Cafe in Nashville, TN. Hosted by David G Smith, enjoy the Redstone Room like never before! This singer-songwriter series transcends listeners into the mind of the artists, as they guide audience members through the emotional atmospheres that shape their sound. Discover the complex layers of the human experience through songs & stories and enjoy an intimate evening full of magic and emotion.
Doors: 7pm / Show: 8pm
Tickets: $15 in advance / $18 day of show
Host: David G Smith
Open Act: Soultru
Special Guests: Anne E. DeChant, James Turley
Age Restriction: All ages, (Under 19 must be accompanied by an adult)
Web:
David G Smith – https://davidgsmithmusic.com/
Anne E. DeChant – https://anneedechant.com/
Genre: Singer/Songwriter
All tickets are general admission. Purchasing a ticket does not guarantee a seat.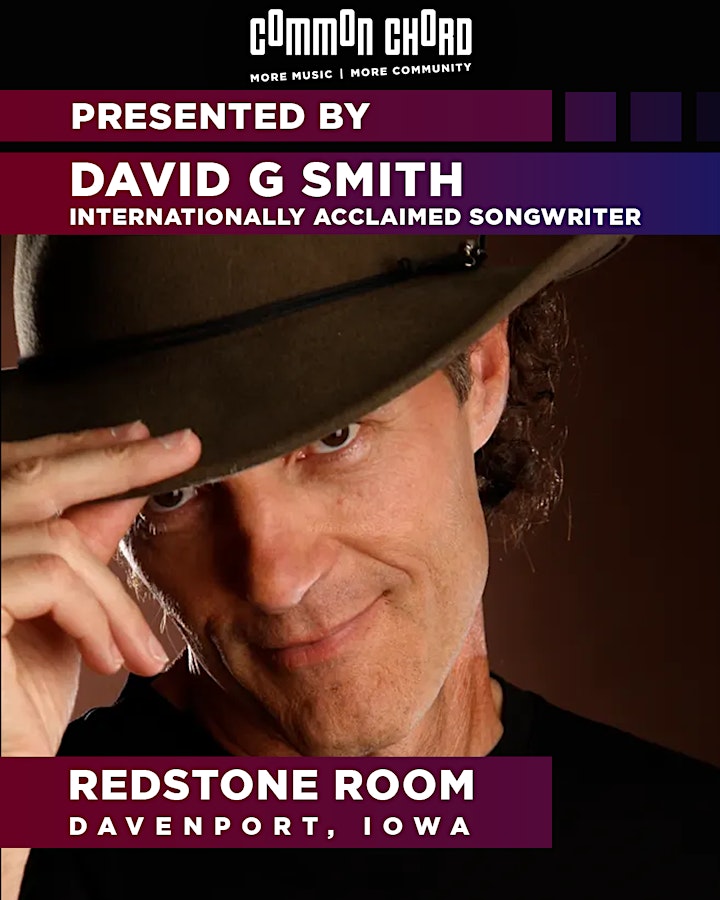 DAVID G SMITH – SONG-CATCHER/TROUBADOUR
SERVING THE SONG AND A LIFE SENTENCE!
Internationally acclaimed songwriter David G Smith is an acoustic solo performer with a lyric-intensive style featuring guitars, a resonator, music and a voice that range from dirt-funk to intimate. Think James Taylor meets Townes Van Zandt. His music is a blend of Folk, Americana, Country & Blues. David was recently accepted as a Juried Artist by Noel Paul Stookey (Peter, Paul & Mary) org Music-To-Life. David is a 2008 International Song Competition 1st Place Winner and two-time ISC Semifinalist. He performs regularly at the Bluebird Cafe/Nashville. David has released 10 albums (with another one on the way) and feature Grammy nom Mary Gauthier and Grammy winner Keb Mo on 4 of them. He has had two nationwide #1 singles on the RMR chart along with several regional #1 charted songs on the Radio Indie Alliance chart. David's songs have been featured on TNT, Lifetime Network, and Travel Channel and he has a string of indie & major-indie song-cuts. His last 3 albums have been accepted for Grammy consideration. David G Smith – his voice and his songs are authentic.
"Like John Prine and Guy Clark, David G Smith draws inspiration from his life and those around him. His songs capture the drama and good times, the laughter and loss that are the components of the modern world." -Tom Wilks, ICON Magazine
"David G Smith is a major find." – Robert K. Oermann, Music Row/Nashville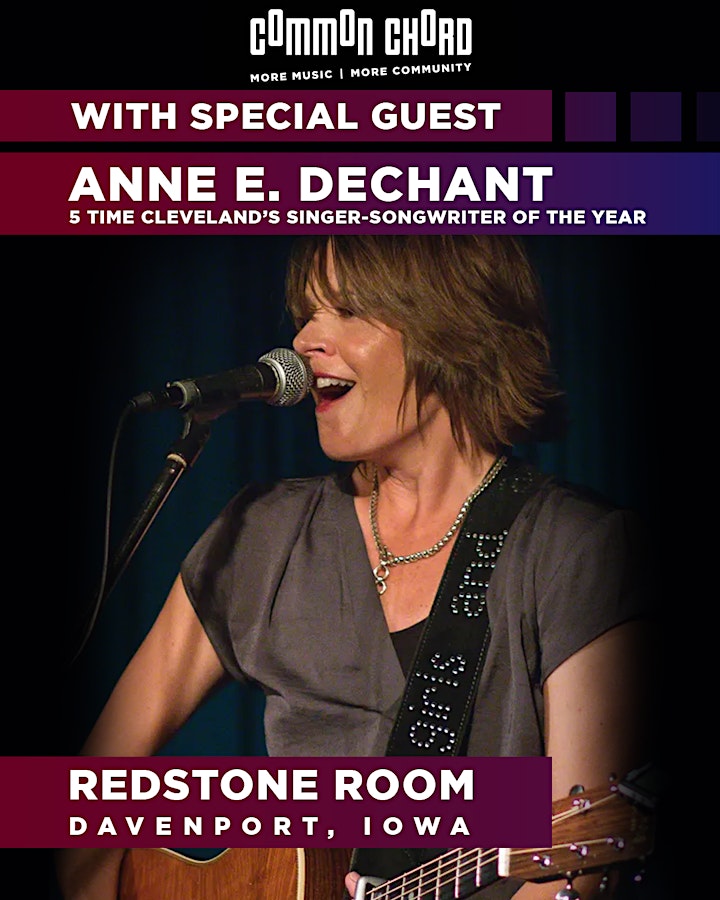 Anne E. DeChant is first and last a story-teller, an artist who writes with the shit-kicker urgency and sweet understanding of the people who stumble and keep keeping on. A Nashville recording artist originally from Avon Lake, Ohio, she is a 5-time winner of Cleveland's Singer-Songwriter of the Year, and a 2020 Kerrville Folk Festival Songwriting Competition Finalist.
DeChant has performed with Melissa Etheridge, Sheryl Crow, Stevie Nicks, Don Henry, Travis Meadows, and was the selected local artist at Lilith Fair (Cleveland 1999). She has delivered stand out shows in storied venues ranging from the Bluebird Café, The Bitter End, The Evening Muse, The Alabama Country Music Hall of Fame, to The Clinton White House.
Anne E. DeChant's unmistakable voice expresses perfectly her songwriter's perception, beginning from her days as the dynamic lead singer of Cleveland fan favorite, Odd Girl Out. With nine studio album releases to her credit, her masterfully crafted, poignant songs move the listener from one world to another with mesmerizing effect.
Anne E. released her first 'best of' record, "Every Little Everything" in 2020, fan funded and Nashville produced by Mike Severs. Her 2017 fan-funded release, "The Sun Coming In", climbed to #6 on the Roots Music Report's national chart, and its first single "Sunday Morning Drive", to #1.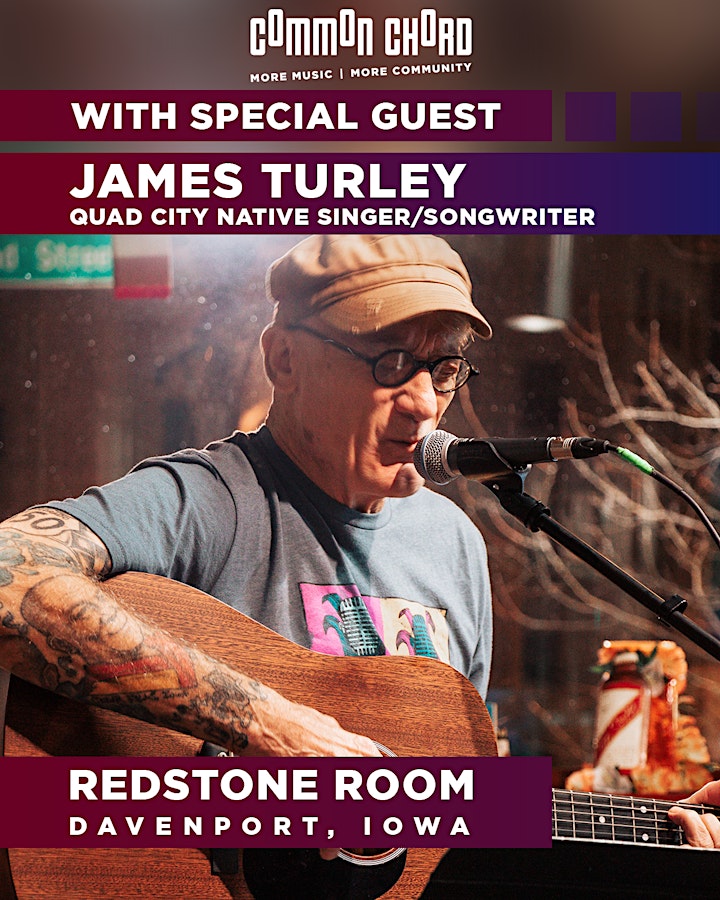 James Turley – Quad City Native, Singer/Songwriter
Developing a unique guitar-picking style was an accident. My left wrist had been broken three times, and forming bar chords was painful and sometimes numbed my entire left arm. But, after discovering Mississippi Blues artists, I found a niche I wanted to make my own. I did not want to copy their styles; I wanted to find my version. As a result, my playing is best defined as continually developing. The more individual artists I am exposed to, the more my playing style evolves.
Writing songs came about at the suggestion of a therapist as a way to confront depression. I write about experiences and events in my life that are common in the lives of many individuals. One of the most rewarding performances I have experienced was after a show at a small coffee shop when a fellow came up to me and said, "Thank you, man. It's like you were singing just to me. I've been there."
I now only play for 'listening crowds.' There's a transfer of energy in groups like that. The crowd becomes part of the show, like Open Mic nights at Zeke's Cafe, where solo artists meld with the audience. I've played twice now on the Redstone Room stage with other solo guitar players. What Common Chord is developing with this 'listener show experience' is unique to the Quad Cities. This event is similar to Nashville's famous Bluebird Cafe. With local support, this type of venue will become a destination for well-known artists and live music lovers across the midwest.