Tropidelic brings their beach vibes to the Mississippi river bank in Downtown Davenport, refreshed with local QC favorite, "Rude Punch".
Doors: 7pm / Show: 8pm
Tickets: $18 in advance / $22 day of show
Headliner: Tropidelic
Supporting Artist: Rude Punch
Age Restriction: All ages (Under 19 must be accompanied by an adult)
Web: https://tropidelic.com/
Spotify: https://open.spotify.com/artist/2SGFnb6c73UJd1vT6aGBMl?si=D8R5RNSFS3OsJituqrEFnA&nd=1
Genre: Funk-Reggae / Hiphop
All tickets are general admission. Purchasing a ticket does not guarantee a seat.
"Every single second is a blessing if you count them all," sings frontman Matthew Roads. You can hear the sincerity in his voice; the joie de vivre that oozes from everything Tropidelic does is apparent. When they take a stage, their synergy flows member to member—horns blow, knees kicked high and grins are passed from one man to the next. Almost immediately it spreads to the crowd, lifting hands in the air as their feet begin to move and the pulse collectively becomes that of one. The six-piece band from Cleveland, Ohio may be far from any tropical islands but that doesn't stop them from dishing out an interesting mix of reggae, hip – hop and high energy funk for audiences across the country. Tropidelic has a deep and widespread appreciation for music that can be heard in each note. Some of the members are hip-hop heads, while others are into metal, funk or reggae. But each of these genres lends something to their collective sound. "We pride ourselves in being original in our musicality and personality as a band," says Roads, "but also in not taking ourselves so seriously that it ruins the fun."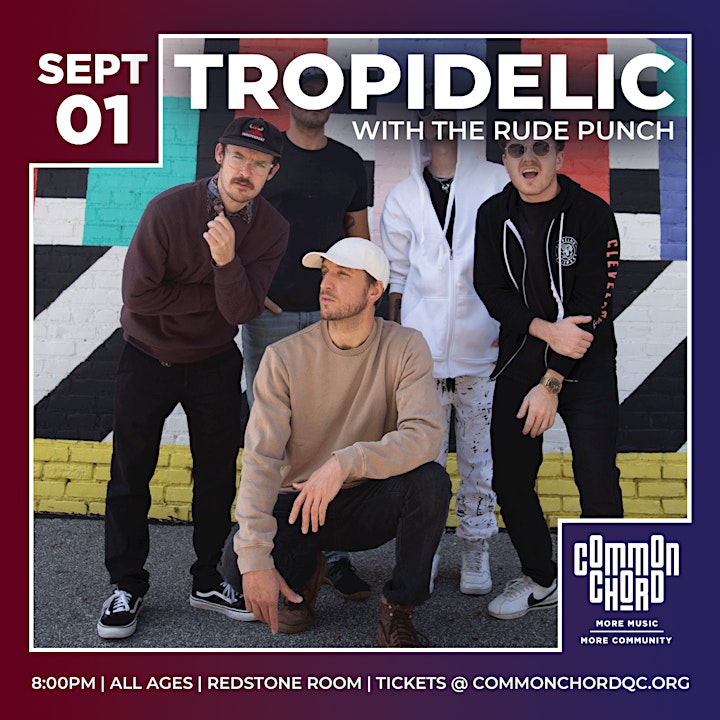 COMMON CHORD POLICIES:
*Ticket Disclaimer*
All tickets for Common Chord events are sold via Eventbrite and carry applicable transaction fees. Tickets can be purchased the day of the event, online, and at the door (subject to availability). Ticket fees also still apply for admission at the door.
*Reserved Seating*
All tickets are General Admission unless otherwise stated. For the comfort of our guests, a limited amount of seating is available on a first-come, first-serve basis.
Reserved Tables: a limited number of tables are for sale in advance, sold through our ticketing service. You will need to add your General Admission tickets AND your Reserved Tables to the cart for purchase. There are four seats at a table.
Physical Accommodations: If you require seating or a reserved space due to health or physical needs, you will need to purchase your General Admission ticket first and then email feedback@commonchordqc.org to reserve up to 2 seats. Tables must be purchased separately.
*Age Restrictions*
Most shows in the Redstone Room are All Ages unless otherwise noted, but minors may attend if accompanied by a parent or guardian.
*Refund Policy*
Purchased tickets are nonrefundable, except in cases of rescheduled or canceled shows.
*Further Questions?*
Please email feedback@commonchordqc.org