A soulful psychedelic stew, based in the blues, served with a healthy dollop of rockin' funk and peppered with southern and latin spices.
Doors: 7pm / Show: 8pm
Tickets: $10 in advance / $12 day of show
Headliner: Zoofunkyou
Supporting Artist: The Wontu Trees
Age Restriction: All ages, (Under 19 must be accompanied by an adult)
Web: https://zoofunkyou.com
Genre: Blues-infused Psychedelic Soulfunk Jammers
All tickets are general admission. Purchasing a ticket does not guarantee a seat.
Zoofunkyou is a genre-bending blues-funk phenomenon who have brought their quick-witted sonic expressionism and meaningful melodic lyrics to audiences all around the country. Based in Chicago, Zoofunkyou's gumbo of finely crafted musical elements is a recipe that they've been working to perfect since 2013 with different ingredients and instrumentalists interspersed along the way. Zoofunkyou (or "Zoofü") is dedicated to spreading love through music and creating inclusive events where people from all walks of life can feel safe and bring the emotional gratitude the band exudes from the stage home with them. In the current iteration, founder Derek Dare, Matthew Coglianese, and Jake Hennessy lead an epic ensemble consisting of a total of 5-9 members depending on the performance. As of late, they are typically joined by James Kries or Brenden Cabrera on Keys, and Nathan Reider on Alto Saxophone, and when they go for the "full band sound" they are joined by Connor Bernhard on Trumpet, Matt Kowalski on Trombone and Alex Santilli on Percussion. With a wide repertoire of both gripping original music and tasteful covers, their live shows have proven time and time again to enthrall, grow and inspire a vibrant fan base affectionately known as the Zoofü Crew.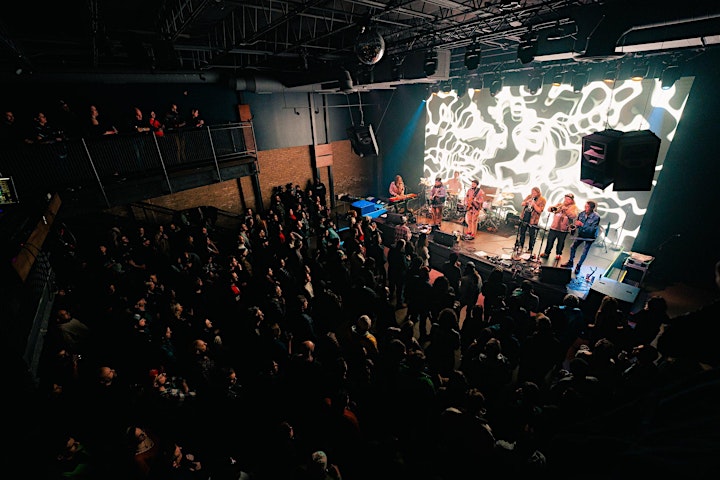 COMMON CHORD POLICIES:
*Ticket Disclaimer*
All tickets for Common Chord events are sold via Eventbrite and carry applicable transaction fees. Tickets can be purchased the day of the event, online, and at the door (subject to availability). Ticket fees also still apply for admission at the door.
*Reserved Seating*
All tickets are General Admission unless otherwise stated. For the comfort of our guests, a limited amount of seating is available on a first-come, first-serve basis.
Reserved Tables: a limited number of tables are for sale in advance, sold through our ticketing service. You will need to add your General Admission tickets AND your Reserved Tables to the cart for purchase. There are four seats at a table.
Physical Accommodations: If you require seating or a reserved space due to health or physical needs, you will need to purchase your General Admission ticket first and then email feedback@commonchordqc.org to reserve up to 2 seats. Tables must be purchased separately.
*Age Restrictions*
Most shows in the Redstone Room are All Ages unless otherwise noted, but minors may attend if accompanied by a parent or guardian.
*Refund Policy*
Purchased tickets are nonrefundable, except in cases of rescheduled or canceled shows.
*Further Questions?*
Please email feedback@commonchordqc.org