The acoustic string-band trio of guitar, viola, and upright bass gives flight to ethereal, vocal harmonies that float like a dream.
Doors: 7pm / Show: 8pm
Tickets: $10 in advance / $12 at the door
Headliner: The Sweet Lillies
Supporting Act: Lily Stella Maris
Age Restriction: All ages, (Under 19 must be accompanied by an adult)
Web: https://www.sweetlillies.com/
Spotify: https://open.spotify.com/artist/4yU0raooXzqeWGXmRRT7V6
Genre: Americana Folk, Bluegrass
All tickets are general admission. Purchasing a ticket does not guarantee a seat.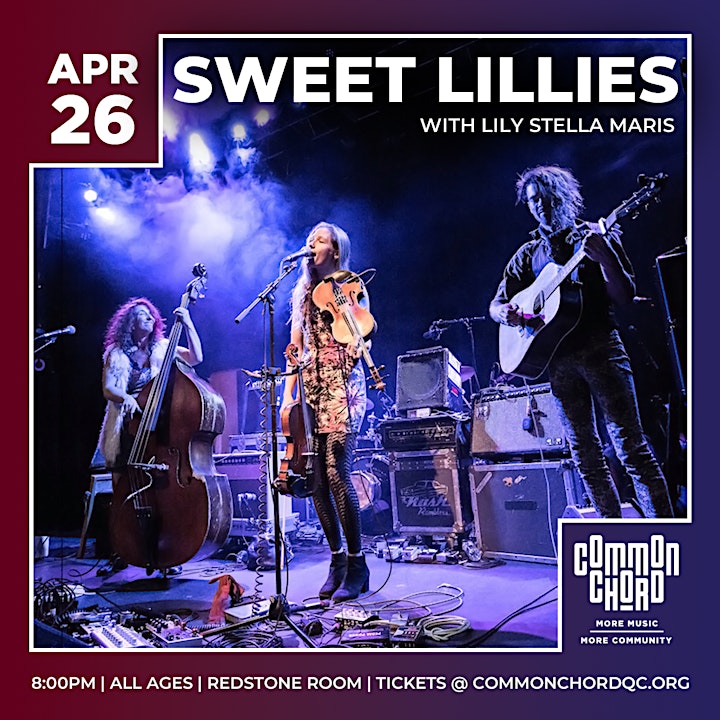 The Sweet Lillies' music is, first and foremost, heartfelt and collaborative. Those defining traits are given life by the trio of musicians who make up the Lillies, Julie Gussaroff, Becca Bisque, and Dustin Rohleder, who have combined their individual strengths together to deliver powerful narratives of life in song. With their acoustic string-band lineup of guitar, viola, and upright bass given flight by ethereal, vocal harmonies that float like a dream, the Sweet Lillies' music has an old-time soul with a forward-looking eye. The Sweet Lillies have incorporated all of their cumulative life-experiences into their music, their song-writing, and their artistry, crafting an uncommonly-beautiful style they have christened String-Americana – a nod to the band's all encompassing musical tastes and willingness to experiment with genres. As Gussaroff explains, "Some musicians learn from teachers, some learn from family members, and some are self taught. Some musicians are classically trained, some come up through folk, some draw from multiple springs, from hip hop through pop to bebop. In the Lillies' all of these skill sets are valuable, relevant, and appreciated."
COMMON CHORD POLICIES:
*Ticket Disclaimer*
All tickets for Common Chord events are sold via Eventbrite and carry applicable transaction fees. Tickets can be purchased the day of the event, online, and at the door (subject to availability). Ticket fees also still apply for admission at the door.
*Reserved Seating*
All tickets are General Admission unless otherwise stated. For the comfort of our guests, a limited amount of seating is available on a first-come, first-serve basis.
Reserved Tables: a limited number of tables are for sale in advance, sold through our ticketing service. You will need to add your General Admission tickets AND your Reserved Tables to the cart for purchase. There are four seats at a table.
Physical Accommodations: If you require seating or a reserved space due to health or physical needs, you will need to purchase your General Admission ticket first and then email feedback@commonchordqc.org to reserve up to 2 seats. Tables must be purchased separately.
*Age Restrictions*
Most shows in the Redstone Room are All Ages unless otherwise noted, but minors may attend if accompanied by a parent or guardian.
*Refund Policy*
Purchased tickets are nonrefundable, except in cases of rescheduled or canceled shows.
*Further Questions?*
Please email feedback@commonchordqc.org