The Arcadian Wild invites you to be present, let your guard down, & to share in something deep, divine, and communal. The power of music!
Doors: 6pm / Show: 7pm
Tickets: $15 in advance / $18 day of show
Headliner: The Arcadian Wild
Supporting Guests: John Cole Born, Wolfskill & The Wild
Age Restriction: All ages, (Under 19 must be accompanied by an adult)
Web: http://www.thearcadianwild.com/
Social:
https://www.facebook.com/thearcadianwild
https://www.instagram.com/thearcadianwild/
https://music.apple.com/us/artist/the-arcadian-wild/887211512
Genre: Americana, Folk, Bluegrass
*** All tickets are general admission. Purchasing a ticket does not guarantee a seat. ***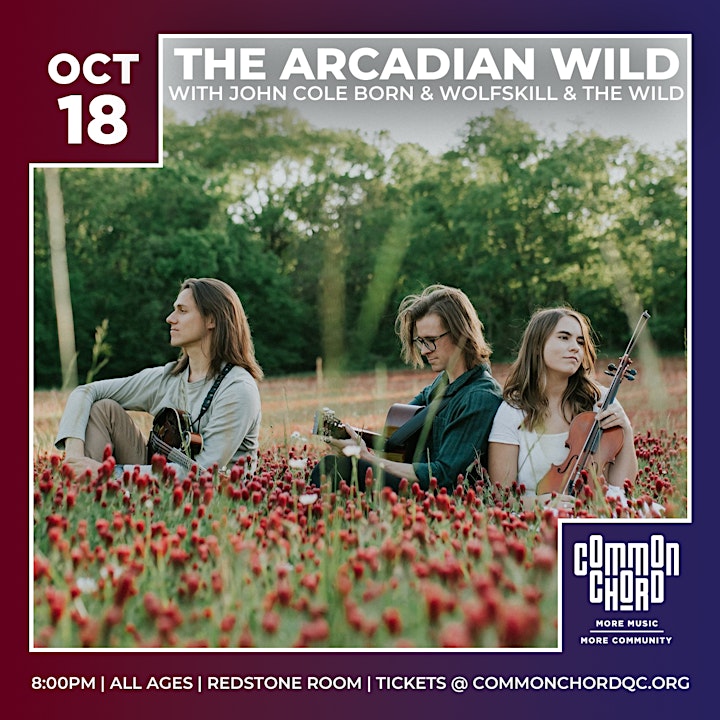 The Arcadian Wild is a four-piece indie folk/pop group from Nashville, TN. Led by songwriters Isaac Horn and Lincoln Mick and Bailey Warren on fiddle, The Arcadian Wild confidently inhabits and explores an intersection of genre, blending the traditional with the contemporary. Combining elements of progressive bluegrass, folk, and formal vocal music, The Arcadian Wild offer up songs of invitation; calls to come and see, to find refuge and rest, to journey and wonder, to laugh and cry, to share joy and community and sing along.
The band's 2023 album Welcome marks the start of a captivating new chapter for the genre-bending trio, who returned to the studio with renewed purpose and insight after devoting the last few years to a series of critically acclaimed singles and EPs. Like much of the band's catalog, the album blurs the lines between chamber folk and progressive bluegrass, drawing on everything from country and classical to pop and choral music with lush harmonies and dazzling fretwork, but this time around there's a rawness to the writing, an embrace of candor and simplicity that cuts straight to the heart of things like never before. The result is perhaps the most arresting collection yet from a band known for its ability to stop listeners dead in their tracks, an exquisitely beautiful celebration of community, connection, and the power of belonging that feels tailor-made for these challenging times.
COMMON CHORD POLICIES:
*Ticket Disclaimer*
All tickets for Common Chord events are sold via Eventbrite and carry applicable transaction fees. Tickets can be purchased the day of the event, online, and at the door (subject to availability). Ticket fees also still apply for admission at the door.
*Reserved Seating*
All tickets are General Admission unless otherwise stated. For the comfort of our guests, a limited amount of seating is available on a first-come, first-serve basis.
Reserved Tables: a limited number of tables are for sale in advance, sold through our ticketing service. You will need to add your General Admission tickets AND your Reserved Tables to the cart for purchase. There are four seats at a table.
Physical Accommodations: If you require seating or a reserved space due to health or physical needs, you will need to purchase your General Admission ticket first and then email feedback@commonchordqc.org to reserve up to 2 seats. Tables must be purchased separately.
*Age Restrictions*
Most shows in the Redstone Room are All Ages unless otherwise noted, but minors may attend if accompanied by a parent or guardian.
*Refund Policy*
Purchased tickets are nonrefundable, except in cases of rescheduled or canceled shows.
*Further Questions?*
Please email feedback@commonchordqc.org