Wishbone Ash's 'Live Dates Live 50th' Tour Celebrating an iconic best seller in Redstone Room at Common Chord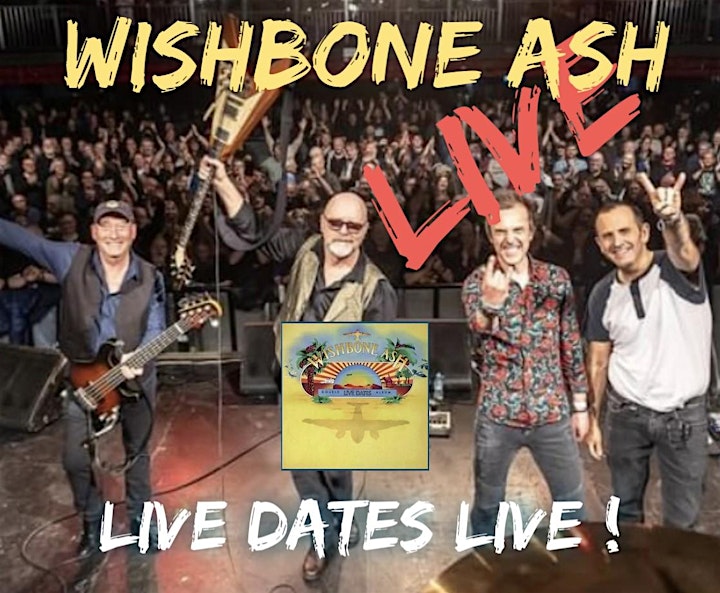 "In 2023 the band, led by founding member Andy Powell (guitarist, lead vocals), will mark the 50th anniversary of their biggest selling, multi-platinum album, "Live Dates," with tours of Europe, North America and the United Kingdom. In the U.S., February and March will see the band traveling through the Northeast and Midwest, with an autumn tour through the South and West.
As the first live album released by the band, "Live Dates" features selections from Wishbone Ash's first four albums performed in concert during the summer of 1973. Reviewers have consistently listed it among the finest live rock albums of all time.
"Live Dates" includes the cream of the early Wishbone Ash crop: King Will Come, Warrior, Throw Down the Sword, Rock 'N' Roll Widow, Ballad of the Beacon, Baby What You Want Me to Do, Pilgrim, Blowin' Free, Jailbait, Lady Whiskey and Phoenix.
To celebrate the 50th Anniversary, "Live Dates" was re-recorded in its entirety at Daryl Hall's venue, Daryl's House Club, in Pawling, New York on July 22, 2022."
Doors: 7pm / Show: 7:30pm
Tickets: $25 in advance / $30 day of show
Headliner: Wishbone Ash
Age Restriction: All ages, (Under 19 must be accompanied by an adult)
Web: https://wishboneash.com/
Genre: Rock / British Rock
All tickets are general admission. Purchasing a ticket does not guarantee a seat.
COMMON CHORD POLICIES:
*Ticket Disclaimer*
All tickets for Common Chord events are sold via Eventbrite and carry applicable transaction fees. Tickets can be purchased the day of the event, online, and at the door (subject to availability). Ticket fees also still apply for admission at the door.
*Reserved Seating*
All tickets are General Admission unless otherwise stated. For the comfort of our guests, a limited amount of seating is available on a first-come, first-serve basis.
Reserved Tables: a limited number of tables are for sale in advance, sold through our ticketing service. You will need to add your General Admission tickets AND your Reserved Tables to the cart for purchase. There are four seats at a table.
Physical Accommodations: If you require seating or a reserved space due to health or physical needs, you will need to purchase your General Admission ticket first and then email feedback@commonchordqc.org to reserve up to 2 seats. Tables must be purchased separately.
*Age Restrictions*
Most shows in the Redstone Room are All Ages unless otherwise noted, but minors may attend if accompanied by a parent or guardian.
*Refund Policy*
Purchased tickets are nonrefundable, except in cases of rescheduled or canceled shows.
*Further Questions?*
Please email feedback@commonchordqc.org